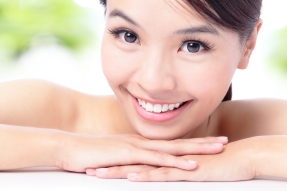 Take-Home Whitening Kit
Take-home whitening is a cost-effective solution to deliver outstanding results without too much hassle. We use the Colgate® Visible White Professional Whitening System to achieve those results every time.
After a thorough assessment of your oral tissues, we'll take moulds and make bleaching trays from them. Each tray is loaded with a whitening gel and inserted into the mouth for a period ranging from 30 minutes to 2 hours per day. This can be done at any time you like, geared toward your personal convenience.
ZOOM! Professional Laser Teeth Whitening
Whitening is the easiest way to make your smile beautiful without the need for a drill. It's non-invasive and the results speak for themselves. Why not consider ZOOM! whitening for your next wedding, engagement or special event? You'll be amazed!
As you watch your favorite DVD in the dentist's chair, you can have your teeth whitened at our clinic with state-of-the-art ZOOM! technology. If you prefer, you can also try the ZOOM! take-home whitening kit for a DIY experience.
If you're interested in the whitening treatment, our dentist will examine your teeth and gums to ensure that the process stays safe and effective. All this takes place while you relax, watching a film, listening to music or even taking a nap. Let us do the rest to brighten your smile!
Professional teeth whitening packages start at $300, with options for private health rebates ranging from $120 to $500 off the treatment price. Some packages also enjoy full coverage by private health care.
20% of our patients experience some sensitivity during the procedure as a result of fine cracks in the teeth, teeth grinding and enamel wear (i.e., toothbrush abrasion). This sensitivity can last up to 24 hours after treatment, as it varies from patient to patient depending on their teeth's condition. We recommend a product known as Relief! ACP that can be included in your take-home dental care kit.
Book an Appointment Today
To schedule an appointment at our clinic, please give us a call at (03) 9478 9757.